Rent your own Archipelago Boat
Rent your own archipelago boat
Why not rent an archipelago boat and tailor the trip to your wishes?
We tailor your experience on board, whether it is corporate events, conferences, courses or team building or private events. We arrange events from 10 to 150 passengers.
We do charter and group trips along the entire coast of Östergötland. The ports we usually start from are Valdemarsvik, Gryts Varv, Fyrudden, Tyrislöt, Stegeborg, Söderköping and Arkösund. If you have any other suggestions, it can probably be solved as well. In addition, we are happy to help with catering suggestions. Renting your own archipelago boat is perfect for various activities such as:
CORPORATE EVENT
Kick-off, archipelago conference and team building. Do you want to do something different for your staff? Let us arrange your company conference or group event on board of one of our boats. We take care of everything from the management team to the entire company.
Singing and music!
If you want a nice music event during your trip, we cooperate with several local musicians for the best entertainment.
A wonderful staff activity or kick-off to get to know and socialize with colleagues. Mingle with something good to eat and drink or let us guide you through the archipelago.
WEDDING
A boat trip is a romantic element between the wedding and the evening activity. We make the boat look as good as possible and you may decorate it with beautiful flowers, birches, silk ribbons, etc. Finger food and champagne can be enjoyed on board. As a wedding boat, we can help you along the entire coast of Östergötland. Popular places to have the wedding party are Mem, Husby manor, Stegeborg, Gryts Varv, Arkösunds hotel and more. The wedding ceremony can be held on the island Västra Gärsholmen with its old stone chapel "Capella Ecumenica" or maybe on a smooth cliff in the outer part of the archipelago?
SCHOOL EXCURSION
At sea there is a lot to learn, see, feel, smell and experience. Maybe a beach break on Harstena to explore the island's fauna and flora. Then you can enjoy some tasty sandwiches, chilled drinks and coffee on board.
BIRTHDAY CELEBRATION
Maybe a 3-hour trip with a buffet, seafood or tapas and drinks, as well as a tasty dessert with freshly brewed coffee. Maybe bring a troubadour or guide, to make the trip even more of an unforgettable celebration.
Welcome omboard!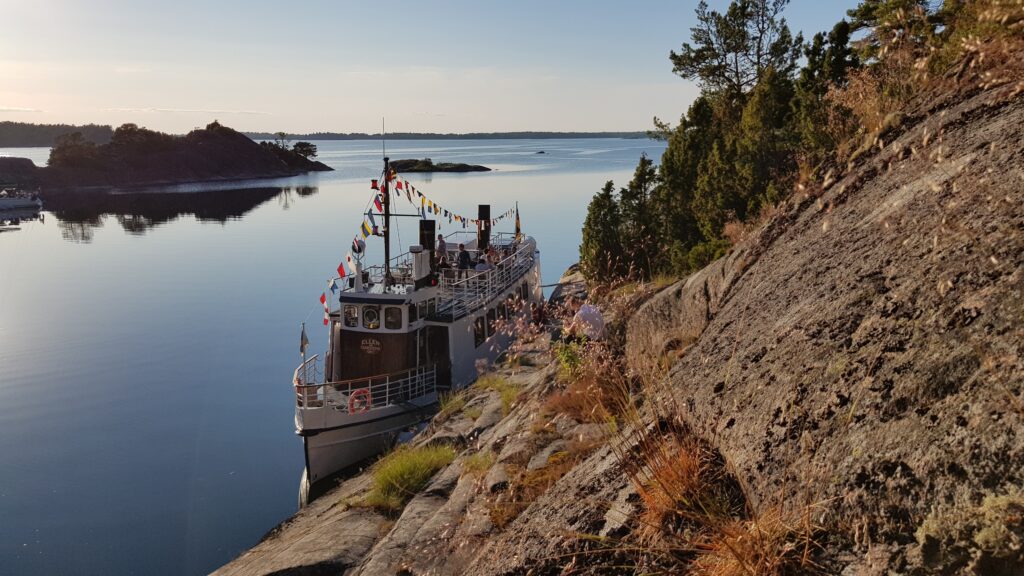 Do you want to know more about what we can do for you?